YOU CALL/EMAIL THE OFFICE AND EXPLAIN YOUR SITUATION
We'll ask some questions, answer your questions and generally get an idea of what is going on and what you as the customer want to achieve.
WE'LL BOOK A SURVEY
We'll need to visit site to get a proper idea of how your building is constructed and how the rats are most likely gaining access.
This will usually involve a drainage survey which we'll conduct ourselves regardless of whether this has already been done by another contractor – we've got better equipment, better knowledge and know what we're looking for.
FIND OUT MORE
WE'LL PUT TOGETHER A SCOPE OF WORKS AND A PRICE
Although it's all discussed on site, we'll put in writing our diagnosis of the infestation route and the remedial works required.
Provided we undertake these works and have full control over the process, we'll also issue a one year guarantee.
IF YOU WANT TO PROCEED, WE CARRY OUT THE WORKS
No subcontractors, no hired in kit – we need to control the process to ensure it all gets done right so it's all done with our own full time staff, supervised by our own management and our own plant & equipment.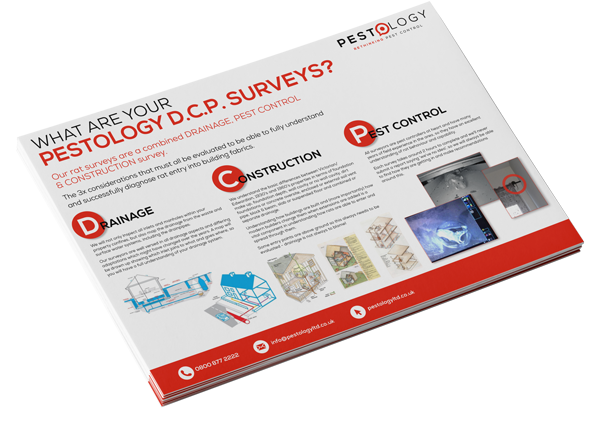 WHAT ARE YOUR PESTOLOGY D.C.P. SURVEYS?
Our rat surveys are a combined DRAINAGE, PEST CONTROL
& CONSTRUCTION survey.
DOWNLOAD NOW